Congratulations to the winners of the 2019-2020 Paul Revere Awards for Graphic Excellence!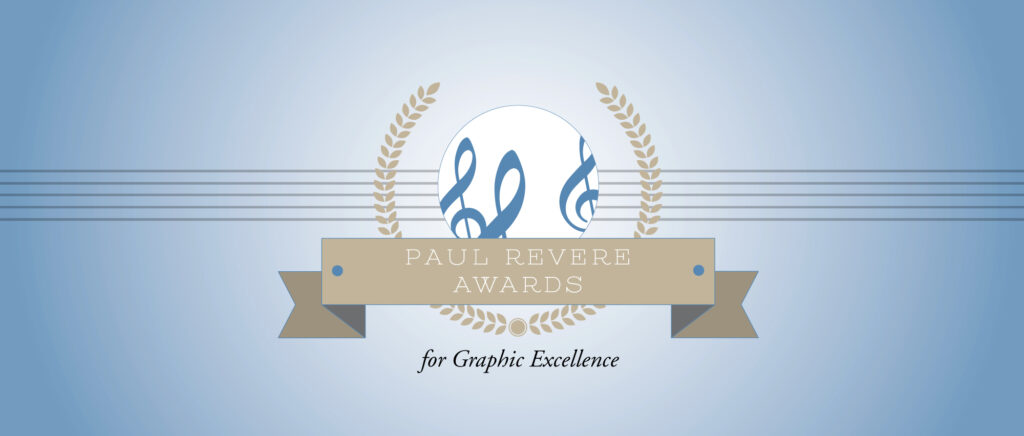 When the MPA opted to delay the submission process for the Revere Awards in March of 2020, like the rest of the world, we had no idea how long we would be conducting our business via Zoom.  We would like to thank our members for being patient with us as we rolled out the first ever online application and presentation of the awards; we look forward to getting back on schedule and (hopefully) being able to gather and celebrate in person by the end of 2021.
This year's awards were presented by Frank J. Oteri of NewMusicBox at New Music USA. If you missed the live presentation, you can find that HERE.
This year's engraving judges were Ju-Ping Song, founder and artistic director of NakedEye Ensemble, and Ella M. Fredrickson, Principal Librarian of The Florida Orchestra.
Our design judges were Emmanuel Wisdom A.,  founder and creator of Una Design Co., and Nim Ben-Reuven, a freelance Art Director, Custom Lettering Artist, and Video Producer.
Ju-Ping Song
Photo: Brian Donnelly

Ella M. Fredrickson,
Photo: Jim Lennon

Emmanuel Wisdom A.
Photo: curtesy of the designer

Nim Ben-Reuven
Photo: curtesy of the designer
2019-2020 Paul Revere Awards for Graphic Excellence Winners
Choral Music Notesetting
1st Prize: Essential Two-Part Anthems, Volume 4 (Various), Hope Publishing Company
Notesetter: Judy Nishimura
Production Coordinator: John Shorney
2nd Prize: God's World (Stacy Garrop), Theodore Presser Company
Notesetter: Zachary Fick-Cambria
Production Coordinator: Daniel Dorff
3rd Prize: A Triumphant Alleluia (Arr. Joseph M. Martin), Hope Publishing Company
Notesetter: Judy Nishimura
Production Coordinator: John Shorney
Keyboard Music Notesetting
1st Prize: The Etudes Project, Vol. 1: ICEBERG (Various), NewMusicShelf
Notesetter: Dennis Tobenski
Production Coordinator: Dennis Tobenski
2nd Prize: 36 Selected Works for Solo Piano (Ervin Nyiregyházi), Carl Fischer Music
Notesetter: Zachary Fick-Cambria
Production Coordinator: Lauren Taylor
3rd Prize: Rhapsody in Blue – 2 Pianos, 4 Hands (George Gershwin), Hal Leonard
Notesetter: Robert Tournon and Sylvie Tournon
Production Coordinator: Brendan Fox
Guitar Music Notesetting
1st Prize: Big Bill Broonzy Guitar Collection (Big Bill Broonzy), Hal Leonard
Notesetter: Charlie Jarvis
Production Coordinator: Jim Schustedt
Piano/Vocal Notesetting
1st Prize: Through the Window (Kenneth Frazelle), Subito Music Corporation
Notesetter: David Murray
Production Coordinator: David Murray
1st Prize: Scrapbookers: A Micro Operetta for Two Sopranos and Piano (Leanna Kirchoff), E. C. Schirmer Music Co.
Notesetter: Stanly M. Hoffman
Production Coordinator: Kristen Schade
2nd Prize: Accessible Solo Repertoire for Voice (Medium-Low Voice) (Various), Excelcia Music Publishing
Notesetter: Tyler Arcari
Production Coordinator: Jamey Ray & Tyler Arcari
2nd Prize: Twelve Easy Songs for Low Voice and Piano (Charles E. Ives), Peermusic Classical
Notesetter: Marina Voyskun
Production Coordinator: Karen Heymann
Full Scores Notesetting
1st Prize: Luimen (Elliott Carter), Boosey & Hawkes
Notesetter: Tom Brodhead
Production Coordinator: Kyle Tieman-Strauss
2nd Prize: Concerto for Piano and Orchestra (John Corigliano), G. Schirmer, Inc.
Notesetter: Dejan Badnjar and David Fetherolf
Production Coordinator: Peter Stanley Martin
Solos with accompaniment
1st Prize: Movie Themes for Classical Players – Violin and Piano (Various), Hal Leonard
Notesetter: Kim Brand
Production Coordinator: Joshua Parman
2nd Prize: NewMusicShelf Anthology of New Music: Alto Saxophone, Vol. 1 (Various), NewMusicShelf
Notesetter: Dennis Tobenski
Production Coordinator: Dennis Tobenski
3rd Prize: Sonata for Violoncello and Piano (John Musto), Peermusic Classical
Notesetter: Marina Voyskun
Production Coordinator: Karen Heymann
Solos without accompaniment
1st Prize: Suite for Solo Violin (John Harbison), Associated Music Publishers
Notesetter: David Fetherolf
Production Coordinator: Peter Stanley Martin
2nd Prize: Phoenix Rising (Stacy Garrop), Theodore Presser Company
Notesetter: Zachary Fick-Cambria
Production Coordinator: Daniel Dorff
2nd Prize: Song for Flint (Vijay Iyer), Schott Music Corporation/European American Music
Notesetter: Juan Pablo Contreras
Production Coordinator: Scott Wollschleger
3rd Prize: Five Miniatures for Two Cellos (Allen Shawn), Galaxy Music Corp
Notesetter: Kevin Uppercue
Production Coordinator: Kristen Schade
3rd Prize: Sonatina (Alberto Ginastera), Boosey & Hawkes
Notesetter: David Nadal
Production Coordinator: Maggie Heskin
Chamber Ensemble Notesetting, score & parts
1st Prize: Ephemeral Objects (Pierre Jalbert), Schott Music Corporation/European American Music
Notesetter: Kenneth Godel
Production Coordinator: Scott Wollschleger
1st Prize: Lost Anthems (Scott Wollschleger), Schott Music Corporation/European American Music
Notesetter: Scott Wollschleger
Production Coordinator: Scott Wollschleger
2nd Prize: Serenata in mi bemolle maggiore, BI 428 for 2 violins, 2 violas, and cello (Alessandro Rolla), Gems Music Publications
Notesetter: Kenneth Martinson
Production Coordinator: Kathy Perigo
2nd Prize: String Trio (Lee Hyla), Carl Fischer Music
Notesetter: Nicholas Hopkins
Production Coordinator: Lauren Taylor
Collated Music Notesetting
1st Prize: Funeral March (Samuel Barber, realized by Peter Stanley Martin), G. Schirmer, Inc.
Notesetter: Peter Stanley Martin
Production Coordinator: Peter Stanley Martin
2nd Prize: American Wonders: Party Like it's 1876 (Edward Knight), Subito Music Corporation
Notesetter: David Murray
Production Coordinator: David Murray
3rd Prize: American Dance Episode (Erik Morales), The FJH Music Company
Notesetter: Tempo Press
Production Coordinator: Morgan Denney
Cover Design
1st Prize: Express Abstractionism, Boosey & Hawkes
Production Coordinator: Kyle Tieman-Strauss
2nd Prize: Flexible Favorites for Strings- Christmas, Wingert-Jones Publications
Production Coordinator: Joseph Snyder
2nd Prize: Flexible Favorites for Winds-Christmas, Wingert-Jones Publications
Production Coordinator: Joseph Snyder
3rd Prize: Famous Orchestral Solos Now For Tuba, Kendor Music, Inc.
Production Coordinator: Melinda Varga
Book Design
1st Prize: Jimi Hendrix – The Complete Scores, Hal Leonard
Production Coordinator: Jim Schustedt
2nd Prize: Violin Concerto in D Major, Keiser Southern Music
Production Coordinator: Joe Derhake
3rd Prize: Women at the Piano, Carl Fischer Music
Production Coordinator: Christiana Lehmann